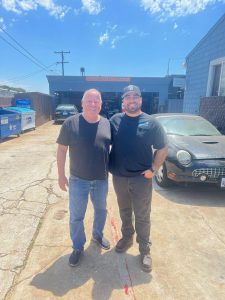 Dear Valued Customers,
We are thrilled to share some exciting news with you! As of July 1, 2023, our family has taken the reins of Becka Automotive, a beloved institution that has been serving the Chula Vista community since 1985. With immense pride and dedication, we step into this new chapter, building upon the remarkable legacy created by the founder, Robert Nieto.
For nearly four decades, Becka Automotive has been synonymous with quality workmanship, unparalleled expertise, and outstanding customer service. Under Robert's leadership, this family-owned business has thrived, offering reliable automotive repair services that have earned the trust and loyalty of the community.
Having ourselves come from a background in the automotive industry, alongside our new General Manager and family member Cesar Garay, who has been learning from Robert himself, we understand the values that have made Becka Automotive so exceptional. We share Robert's passion for delivering top-notch work and making every customer feel like part of the family. It is with this shared commitment that we take up the responsibility to carry on the tradition of excellence that you, our valued customers, have come to expect.
While Robert has decided to embark on a well-deserved retirement, his legacy and dedication will live on through us and our new General Manager. Our promise to you is that the level of service and care you have experienced over the years will remain unchanged. We are honored to continue Robert's vision, and we look forward to serving you with the same passion and expertise that has made Becka Automotive a pillar of the community.
We are excited to be part of the Becka Automotive family and look forward to welcoming you to our shop. Whether it's routine maintenance or complex repairs, we are here to assist you with the same level of care and attention to detail you've come to rely on.
Warmest regards,
The Garay Family
The New Owners of Becka Automotive