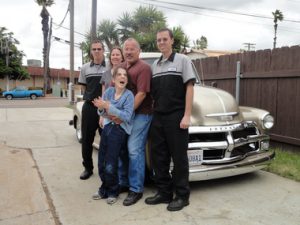 A family owned and operated business that was started in December of 1985 by Robert Nieto. Robert has worked in the automotive repair industry since 1975. When the opportunity presented itself for him to have his own business amongst his peers, he seized that chance. Finding the perfect shop name was no struggle to Robert. The name Becka (Becka Automotive) is inspired by his daughter Rebecca who overcame many adversities at a young age, and still continues to be a miracle in the Nieto family, as well as countless others who get a chance to meet her. So after much planning and late night brain storming, Becka Automotive was birthed in December of 1985 at 363 E Street in Chula Vista. Robert's first employee was his father Sam Nieto, who later passed in August of 2001.
In 1991 Becka Automotive relocated to its current location and has remained since. Robert now employs a manager and several technicians and his wife works part-time in the office.
Like the characteristics of Rebecca (Robert's daughter) we employ the attitude of, "Overcoming Adversities to Provide Excellence" here at Becka Automotive.